Macy's Thanksgiving Day Parade
Macy's Thanksgiving Day Parade
Making Macy's magic
The Macy's Thanksgiving Day Parade kicks off the holiday season in a big way. Your students will have the opportunity to celebrate the season alongside some of the best bands in the nation for an audience of millions.
A performance travel partner like no other.
Best day ever
That moment your students make the turn onto 34th Street and take their places in Herald Square will be a moment they remember for the rest of their lives. So will the folks watching at home!
Celebrate in the City
What better way to celebrate your students' Macy's debut than to take a bite out of the Big Apple? We'll craft a New York itinerary around your parade experience that will knock your students' socks off.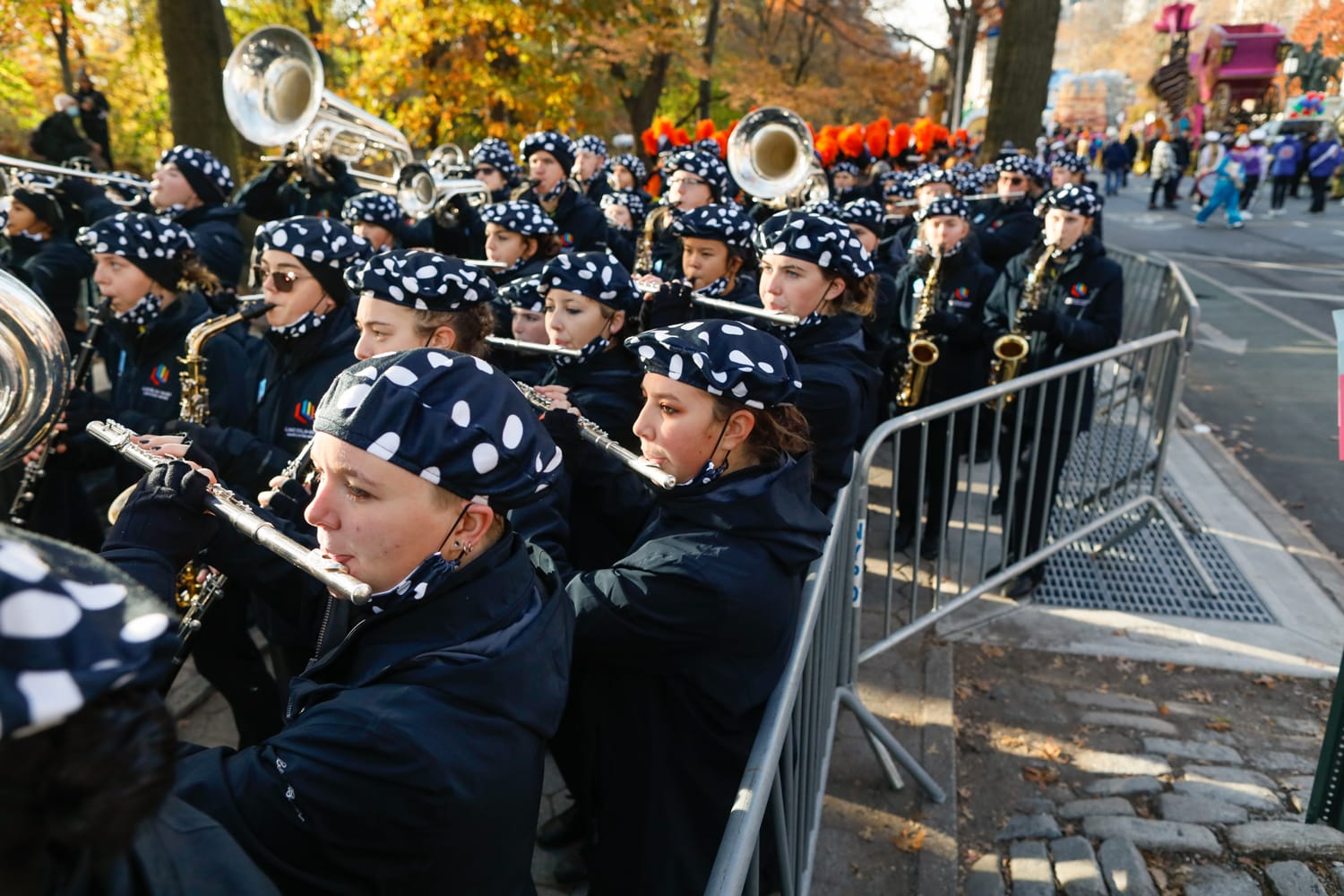 We've got it handled
Not only do we know New York City inside and out, but we've been leading bands through the Macy's Parade experience for years. It's our pleasure to think through every detail so you don't have to.
Trip Highlights
Perform in the Macy's Thanksgiving Day Parade in New York City
Take in a Broadway show or the Christmas Spectacular starring the Radio City Rockettes
Visit New York City's world-famous museums and attractions.
Celebrate your accomplishment with a dinner overlooking Times Square or Dinner/Dance Cruise
Anything else you want to make your New York City Thanksgiving trip-of-a-lifetime a reality
Bob Rogers Travel
Participating Schools Since 2012
Marian Catholic High School
Tarpon Springs High School
South Dakota State University
O'Fallon Township High School
Stoneman Douglas High School
Why Bob Rogers Travel?
A once in a lifetime experience deserves expert planning and coordination that leaves nothing to chance. We've been leading award-winning bands like yours to the nation's most coveted parade experiences for over 30 years. Our team of music education and travel industry veterans is ready to partner with you from day one, guiding you through the process, thinking one step ahead and keeping even the smallest of details in mind. Our "leave no stone unturned" approach allows you to concentrate on making great music and meaningful memories with your students.
Awards
Disney Partners Award for exemplary leadership and achievement within the student travel industry, providing quality experiences and demonstrating business integrity, while embracing and promoting the magic of Disney.
Broadway.com/groups Top Producer's Circle in recognition of BRT's status as a leading promoter of Broadway to the group travel industry. (since 2011)
Top Producer Award for Disney Performing Arts OnStage programs at the Walt Disney World® Resort (since 2011)
A Top Producer for Festival Disney programs at the Walt Disney World® Resort (since 2013)
Top Producer for Chicago Symphony Orchestra (since 2011)
Charter Member of the National September 11 Memorial & Museum
Associations & Partnerships
Student & Youth Travel Association Active Member
National Tour Association Member
Make-A-Wish Foundation Official Sponsor
International Airlines Travel Agent Network Accredited Member
American Choral Directors Association Member and Proud Sponsor
Disney Youth Programs PremEar Travel Planner and a member of the Disney Youth Travel Planners Symposium since 1993.
Universal Orlando Preferred Youth Travel Planner
Universal elements and all related indicia TM & © 2022 Universal Studios.
© 2022 Universal Orlando. All rights reserved.

The personal touches that BRT provides. Your company gets to know the people they work with. I have never felt like a "number" with BRT.
Leslie Schmidt
Class Trip, 2018 DC tour
Columbia Central Junior High School

I appreciated the flexibility Bob Rogers showed us with the billing and various payments we had to make. We thought we were adding more and ended up not but you were great about giving us extra time to work out what we needed to on our end.
Loraine Wistrom
Band, 2017 Chicago tour
Plum Grove Junior High School

BRT is always on top of all details. Even when something has slipped through the cracks, changed, or something unexpected comes up, BRT is flexible enough to make the changes needed to make everything right. We have always been so well taken care of and the personal attention is what makes your company special.
Dameon Place
Band, '18-19 Orlando tour
Pella Community High School

This was my 5th trip with Bob Rogers, and I appreciate the professionalism and also the willingness to work with me and my students to make each trip the very best it can be.
Trey Jacobs
Choir, '18- 19 Atlanta &Tuscaloosa Tour
Nashville School of the Arts

You make the process so easy - step-by-step of what needs to be done, guidance along the way, available (and quick) to respond to questions and making me feel like me and my students are your priority.
Beth Vaughn
Choir, '17-18 New York City tour
Bowling Green High School

The quality of service that you provided us with was second to none. The organization and communication were exceptional and we always felt we were in "the loop" on things both before and during the trip.
Bob Mecozzi
Band, '17-18 Orlando Tour
Amos Alonzo Stagg High School

BRT hands down has been the absolute best travel company I have worked with in my 18 years in education. My interactions with BRT have always been so much more than just traveling from one destination to another...the focus has always been on people and providing them with experiences of a lifetime.
Barry Houser
Band, '17-18, Ireland tour
University of Illinois

From the scheduling, to planning, to overseeing, to leading, to customer service, everyone involved was courteous, prompt, and hospitable. Everyone did their jobs well and turned the trip experience into something better than we had anticipated.
David Dvorak
Band, '17-18 Nashville Tour
Lakewood Middle School

Very Organized - even when problems develop. We've gone on enough trips with Bob Rogers to know how BRT operates - always first class, always prepared.
Joe Carl
Band, '17 Los Angeles Tour
Sumner High School

The whole BRT team was extremely attentive, accommodating and reliable. Every detail was attended to and my stress level the entire trip was at an all-time low.
Joel Vanderheyden
Band, '17-18 New Orleans Tour
Jefferson College